Home Air Conditioning Service in the Seattle Area
During peak season, summer temperatures in Seattle can go as high as 104 °F, which means that your home can be as hot as an oven if you do not have air conditioning. High temperatures in Seattle are normally expected, reaching around 80 °F for 25-30 days annually. If you have poor insulation in your home, indoor temperatures will be higher. Tracking the temperature trend over the years, you can expect warmer days in the greater Seattle area. If you do not want to suffer from the heat, it's about time you have your air conditioning repaired or replaced before the heat of summer catches you unprepared.
Fischer Heating & Air has been serving Seattle for over 35 years. With our consistent workmanship and professional service, we've earned the trust and confidence of Seattle residents through generations.
When you have a properly working air conditioning system, you'll feel productive, mentally alert, and generally feel comfortable and active. When you control indoor temperatures, you can protect people who are vulnerable to high heat. This includes your young children, the elderly, and family members that are sensitive to heat.
Stay Cool During Seattle Summer Days
It is more difficult to keep cool during the summer than it is to keep warm in winter. During the cold months, you can easily add extra layers of clothing. But that is impossible to do in summer. When the weather is warm, you'll feel sticky and sweaty when you do not have an efficiently working air conditioning unit to keep you cool. There are also systems that will keep you hot or cold depending on the season, which is a good investment if you have the budget.
Top Caliber Home Air Conditioning Service
Fischer Heating & Air HVAC service is top-notch. We specialize in and commercial and residential air conditioning services. You can count on us to deliver, and offer you top quality service at competitive prices.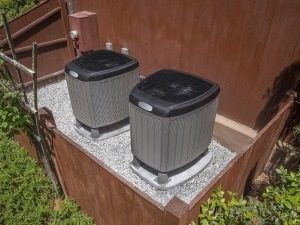 Our technicians are fully trained in many types of air conditioning systems, whether it is for installation, maintenance, or repair. We do not give you a recommendation right away. We must assess your needs so we'll be able to pinpoint problem areas before we give you our expert recommendations. This includes checking the air temperature inside your house to make sure your cooling system is working properly.
Air conditioners and heating systems are mechanical equipment that is subject to wear and tear. The age of the unit can be a factor as well. However, proper and regular maintenance can extend the life of your air conditioning system. You can give us a call any time should your air conditioning unit turns cranky, fails to work continuously, or actually stopped working. Count on us to provide you with quick and efficient service. We are available 24/7, every day of the week so you do not have to worry if you suddenly find your air conditioning system not functioning properly at odd hours or during weekends. We've got you covered for we know air conditioning and heating systems inside and out.
Fischer Heating & Air Technicians Are Licensed and Screened
Trust Fischer Heating & Air to recommend the best solution to fit your home and your budget. Our technicians are licensed, bonded, and screened to give you peace of mind they will fix your HVAC system the first time. We work with some of the best brands in the market, so you are ensured that what you'll get is top-quality equipment. We'll also let you know which part of your home or office will be the best place to install your unit.
Give us a call today for air conditioning maintenance or repair. We'll gladly serve your system when you're in the market for a new air conditioning unit or you need expert advice on your existing cooling system. Call us now!
We perform the heating repair in Seattle, WA, for all kinds of homes, new and old.