When to Consider Air Duct Repair in Seattle, WA
If you have central heating and air conditioning systems in your home, you understand that the ductwork circulates cold or heated air around your home to keep you comfortable at any time of the year. The ductwork should be properly designed and installed to distribute cold or hot air around your home efficiently, but it can age over time, becoming dirty or faulty. When this happens, you need to have a trusted HVAC company perform duct repair near you. Fixing ductwork can make your HVAC systems work effectively once again.
Fischer Heating & Air Conditioning has the experienced manpower, the tools, and the knowledge of different HVAC system brands and models to help you choose the best and most efficient system for your needs. We've been serving the residents of Seattle for several years and have developed a community of loyal customers that trust our expertise and brand of service in all aspects of home cooling and heating systems.
Types of air duct repair near me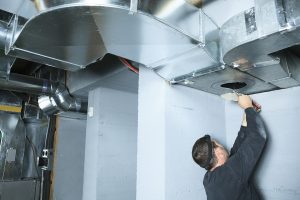 Ductwork comes in two major types: flexible and rigid.
How to Repair Flexible Ductwork
Flexible ductwork usually is tube-shaped. This is made of a wire coil that is covered with durable and bendable plastic, with insulation surrounding it. This type is best suited for tricky spaces where rigid ducts cannot be installed. Flexible ductwork has different installation requirements. It must be properly supported to minimize snaking and sagging. Although flexible, turns, bends, and kinks should be avoided as this can reduce airflow. However, flexible ducts are easier and quicker to install and are priced lower than rigid ducts.
Rigid, Sheet Metal, and Fiberboard Duct Repair
Rigid ducts come in various sizes and materials. They can either be rectangular or cylindrical and are insulated. Many homes and buildings have this type of ductwork, which is reliable, enduring, and strong. Rigid ducts come in three variations. The sheet metal ducts are made of either aluminum or galvanized sheets. Aluminum is lighter and easier to install and does not encourage the growth of mold because its surface is non-porous.
Sheet metal ducts can also be lined with fiberglass, internally or externally. This type of rigid duct is more common in commercial buildings and offices because it suppresses the sound of the air conditioning units. But the fiberglass lining can deteriorate over time, posing health risks as fiberglass particles can be released into the air. Fiberglass-lined ducts are also prone to bacteria and mold contamination and are difficult to clean.
Another type of rigid duct is fiberboard, which is made from fiberglass strands. The strands are packed together and bonded with resin and covered with foil laminate for protection against moisture. While this type is effective for heating and cooling systems because of its good insulation, it is not recommended for ventilation in places like Seattle where humidity is high. This is because of the possibility that the ductwork will become a breeding ground for mildew and mold. Likewise, its rough surface can affect airflow.
Signs that you need ductwork replacement
Your ductwork has been installed for over 10 to 15 years
Different rooms in your home show varied temperatures
Tears and holes are visible in the exposed areas
Airflow in different parts of your home is irregular
Water leaks are present in some areas of your home
It is important to have clean and well-insulated ductwork. If it's worn out and it's not possible to repair or properly seal it, then it needs replacement. It is better to have the duct repairs or replacement than have higher energy bills. If there is air leakage, the HVAC system will work harder, thus using up more energy and wear on your system than necessary.
Many homeowners are reluctant to have duct repairs or replaced due to the cost of this type of service. If you have a hard time making a decision, call the experts at Fischer Heating & Air Conditioning. We will send a technician to your home to assess the condition of your ductwork. Whether it can still be repaired or definitely needs replacement, trust us to give you the most competitive quote for the job. We treat our clients like family so we are always ready to provide you with the right options and recommendations to ensure that you'll have an efficient HVAC system.