FAQ's for Choosing the Right HVAC Company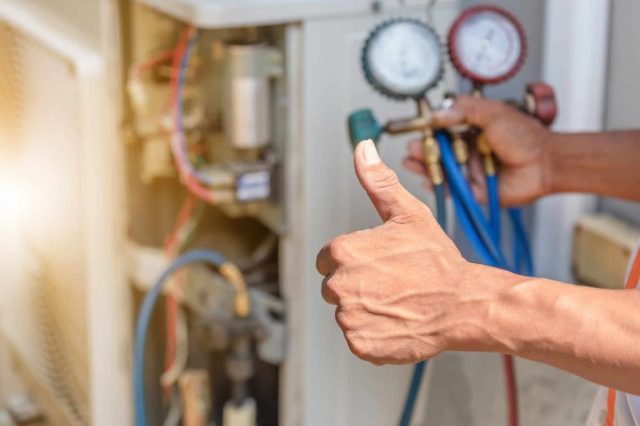 FAQ's for Choosing the Right HVAC Company
When you're searching for an HVAC company in Seattle, you shouldn't have too hard of a time tracking one down.
There are, after all, more than 100,000 HVAC companies in the U.S. today. This makes it easy for homeowners to find HVAC companies in their specific areas.
But finding a truly great HVAC company can be a challenge. You shouldn't allow just anyone to come in and work on your air conditioning or another component of your HVAC system.
One way to make your search simpler is by asking yourself a series of questions when you're considering a few different HVAC companies. The answers to those questions should let you know whether or not a company is right for you.
Here are some of the FAQs for choosing an HVAC company.
How Much Experience Does an HVAC Company Have?
One of the first things that people should look at when they're thinking about hiring an HVAC company is how much experience they have. Most companies will broadcast this information somewhere on their websites.
You do not want to work with a company that has only been in business for a year or two. That company probably won't be able to provide you with the kind of high-quality HVAC services that you need.
Instead, you should look around for HVAC companies that have been around for years now, if not decades. In a perfect world, the company that you hire to help you will have at least 20 or 25 years of industry experience.
This will ensure that a company knows what they're doing when they come into your home to install, maintain, or repair your HVAC system. It'll also show that they've earned the trust of many other homeowners in the Seattle area.
Which HVAC Services Do They Offer?
Outside of checking to see how much experience an HVAC company has, you should also take a long look at the different HVAC services that they're capable of delivering.
Let's say that you need help with your home's AC. You want to work with a company that can provide you with a slew of AC-related services, including:
AC installation
AC maintenance
AC repair
Ductless mini-split system installation
Thermostat installation and repair
You aren't going to need to take advantage of all these services at once. But it'll be nice to know that you can call on a company in the future if you need to get access to those services.
It'll also be nice to know that a company seems to know all the ins and outs of HVAC systems. You'll feel more confident in the work they're able to do when this is the case.
Are They Licensed and Insured?
Write this down and circle it with a red marker: You should never, ever, ever work with an HVAC company that isn't licensed and insured! If you do, it could prove to be one of the worst mistakes you ever make as a homeowner.
A business license legitimizes a company. It shows that they're registered to work in your city and that they've gone through the proper training to work on HVAC equipment.
HVAC insurance, meanwhile, protects both you and a company in the event that an accident takes place during an HVAC job. You won't have to worry about getting saddled with medical bills or repair costs in the aftermath of an accident.
You should always ask HVAC companies to tell you their business license number and provide you with proof of HVAC insurance. Otherwise, you could find yourself in a world of trouble later.
Can They Provide References From Past Clients?
Every HVAC company will tell you that they provide the best HVAC services. But great HVAC companies go above and beyond talking themselves up and allow their customers to do it for them.
If you're on the fence about whether or not to choose a company, ask them to set you up with a list of references. Call several of the company's past clients to see what they have to say about them.
This will let you know what others in your community think about a particular company. You'll feel better picking a company when you hear glowing reviews from others.
In addition to asking companies for references, you should also do your own homework on companies by consulting online reviews for them. You can see how people have rated them in the past by conducting a simple Google search and seeing what pops up.
Do They Stand Behind the Work They Do?
The company that you bring on board for your next HVAC installation or repair should really care about the products and services they're providing for you. They should be 100% committed to making sure you're happy with the products and services that they set you up with.
They should also stand behind the work they do and return to your home if you're not thrilled with any aspect of that work.
Don't be afraid to ask a company if they offer a guarantee on the work that they do in homes. Great companies shouldn't have any problem providing you with some sort of written guarantee.
They also shouldn't have any problem with making a return trip to your home in the near future if you feel as though they didn't live up to their promises. You don't want to work with a company that doesn't take pride in the work that they do for homeowners.
Are They Able to Offer Competitive Prices?
When you're in the process of trying to find an HVAC company, it's easy to allow yourself to get too caught up on price. Many homeowners make the mistake of hiring whichever company offers them the lowest prices on products and services.
It's not a bad idea at all to try and get as many quotes as you can before choosing a company. Most companies would be happy to send you a quote based on the HVAC work that you need to have done.
But rather than just accepting the lowest quote and working with the company that provided it, look for the company that offers you both the best products and services and the fairest prices for them.
By taking this approach to shopping around for HVAC companies, you should put yourself in the right position. You'll get the HVAC installation or repair services you need without having to spend a small fortune on them.
How Soon Can They Come Work on an HVAC System?
When there's a problem with your HVAC system, you can't afford to sit around for days or even weeks on end waiting for a company to send someone to your home. You need a company that can send a technician right away.
This is again why it's so important for homeowners to work with experienced HVAC companies. These companies often have more technicians on their staffs than smaller companies that can't afford to pay a bunch of people to work for them.
As a result, these companies can send someone to your home sooner to help you deal with your HVAC problems. Many of them are even capable of providing emergency HVAC services to their customers at any time of the day or night.
Do They Make You Feel Comfortable?
Most homeowners aren't super knowledgeable when it comes to their HVAC systems. They know how to replace a furnace filter or adjust a thermostat. But they don't know much about their HVAC systems beyond that.
If you fall into this category, you need an HVAC company on your side that's going to explain what's happening with your HVAC installation or repair without talking down to you. They should be able to make your HVAC system make sense so that you're comfortable paying for HVAC services.
It's always smart to spend time talking to the owner of a company before you hire them so that you can feel them out. You'll have a much better idea of what it's like to work with them following a phone or in-person interview.
At the end of the day, you want a company that will go to great lengths to provide you with an excellent experience while working on your home's HVAC system.
Hire the Right HVAC Company to Come to Your Home
Would you like to have a new central air conditioning system installed in your home, or do you need work done on your existing one?
We would be more than happy to set you up with the HVAC services you need. With almost 25 years of experience, we're the HVAC company that homeowners in Seattle can rely on for all their HVAC needs.
Stop sweating in your hot home this summer and give us a call to see how we can help. We can cool your home off in no time and prove to you why we're a company that you can trust.
Contact us today to schedule HVAC installation, maintenance, or repair.
Howard Hale creates effective content and marketing strategies for a multitude of businesses. His agency, ManifesGo is all about helping small businesses manifest their marketing goals and objectives.