A Cool New Home: 6 Things To Know Before Your Very First Central Air Conditioner Installation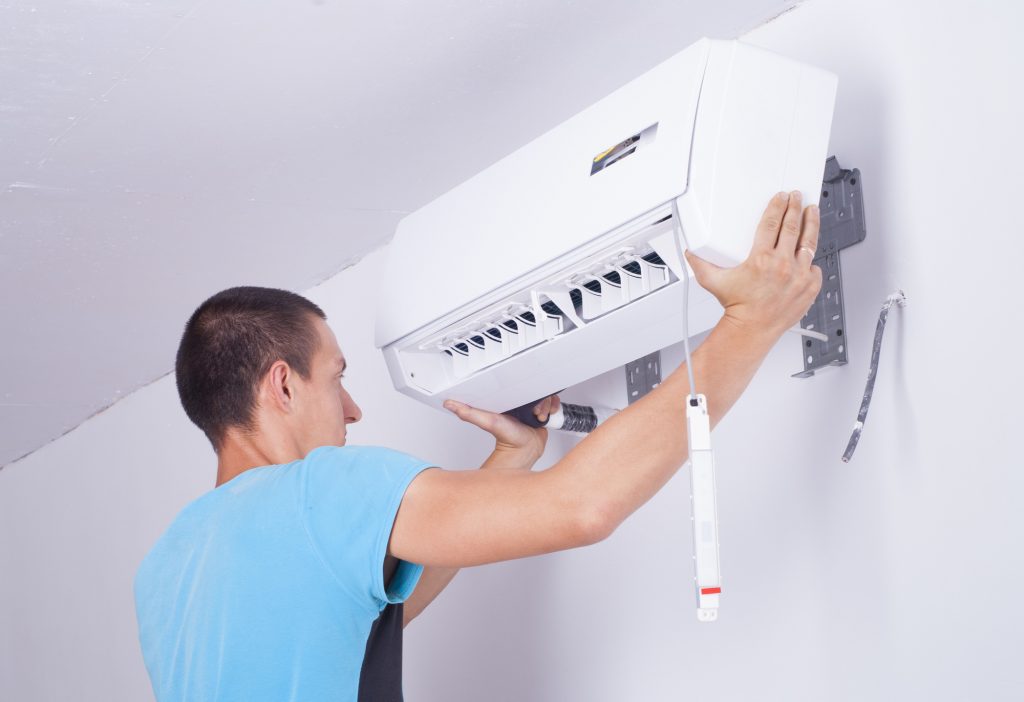 A Cool New Home: 6 Things To Know Before Your Very First Central Air Conditioner Installation
Putting in a new central air conditioner installation is an exciting step in owning a house. No more sweating through summers and letting every bug in the state fly in through your open windows while you try to catch a breeze. Instead, you're going to be cool all summer – as soon as you figure out how to get a new central air conditioner installation set up.
There are a lot of things you have to keep in mind and look out for when you're getting a new AC system installed. From which type and how big a system you want to which contractor you want to work with, there are a lot of factors that come into play. Read on to learn what you'll want to know when you get ready to have your new AC installed.
Compressor Size and Efficiency
One of the first questions you're going to want to ask in your central air conditioner installation is what size compressor you need. These come in ton sizes, and which you need depends on the square foot of your house. You usually want about 1 ton per 600 square feet of house you have.
You may be thinking that going with a bigger system would be better. But having a system that's too large for your house (or too small) will cause you problems in the long run. With a larger system, you're going to have trouble regulating your humidity, and your system is going to turn on and off a lot more frequently.
You'll also want to take a look at what Seasonal Energy Efficiency Rating (or SEER) you want your AC to have. Higher ratings are more efficient systems, which can be great for saving energy and money, but they're more expensive upfront. Fourteen SEER is the baseline for most systems, and the scale goes up to twenty-one or twenty-two.
Different HVAC Types
Even within a certain size and efficiency rating, there are a lot of different kinds of air conditioners. In general, there are four types of systems: split systems, heat pumps, packaged air conditioners, and mini-split systems. Which one you want depends on your particular house and needs.
A split system is what we usually think of when talking about HVAC systems: there's a compressor outside, an air handler inside, and refrigerant lines and ductwork to connect the system. This is a good option for most situations, especially if you're looking to not spend a lot of money.
A heat pump system is a more efficient system that provides heating and cooling through one unit. Rather than having a furnace and an air conditioner, a heat pump uses one unit to do all the heating and cooling. It extracts warmth from the air or earth to provide heating or pushes heat out into the world to provide cooling.
Packaged air conditioners use a heat pump to provide heating, but they also provide electric cooling. They are a marriage of the split system and the heat pump system options. A lot of commercial spaces use these because they have a small footprint, and they are flexible in installation options.
Mini-split systems don't use ductwork to distribute the heating and cooling. Like the traditional split system, these have an air handler inside and a compressor that sits outside. But instead of blowing the cool or warm air into the ducts, these systems blow it directly out into a small space.
Figuring Out Ductwork
Mini-split systems work best in small, open spaces, so assuming you don't have that, you're going to need to deal with ductwork. Figuring out where to put your ductwork is going to be one of the biggest questions in your air conditioner installation. If you have existing ductwork for heating, you can skip this section.
The trouble with ductwork is that short of some special (expensive) ducts, you're looking at trying to find an extra two or three feet square of space in your house. If your house is over a basement or crawl space, you can install your ductwork there and cut floor vents. Be careful, though – if you have a basement, make sure your ductwork won't drop the ceiling so low that your space is no longer usable.
If you don't have a basement or crawl space, you're probably going to be looking at building a box into the corner of your ceiling and walls to contain and hide the ductwork. If you have the ceiling height and budget for it, you might consider dropping the ceilings to accommodate the ducts. Talk to your contractor about options; they'll be able to suggest the best approach for your house.
Return Placement
Once you've decided where you're going to put the ductwork, now there's another big piece you have to place: the return. As the name might suggest, the return is where the air comes back into the air handler, completing your air circulation system and providing a place to filter out dust and other particulates from your system.
This return is going to be about two feet square; if you've seen houses that have the air handler in a closet, you'll often find the return placed in the front of that closet. The main requirement for where the return goes is it has to be somewhere no one will stand on it or set anything down on top of it. Closets, spaces under stairs, and large walls that adjoin where your air handler is located make good options.
Air Handler Location
That's right, you also have to figure out where your air handler is going to go, and this one may get tricky. Your air handler is the big piece of machinery that handles blowing warmed or cooled air from the compressor out into the house. It's going to take up a lot of space, so you're going to need to plan for where to put it.
Once again, if you have a basement, that can be a good place to put the air handler (though do keep in mind you're going to want it centrally located in your house). You might also be able to build a closet to contain it. Wherever you put your air handler, you're going to want to make sure you can access it; this is where your air filters live and where any maintenance of your system will happen.
Finding the Right Contractor
The single biggest decision you'll make when you're getting ready to put in a new air conditioner is which contractor you work with. This person will provide you with the products and the labor for your installation. You're going to be paying them thousands of dollars, so you want to make sure this is somebody you can trust.
Start by getting different contractors to come out to your house and take a look at your setup. Talk to them about ductwork installation ideas and what size system they would recommend for your house. Compare this with what you know about your situation, and make sure what they're saying makes sense.
Before they leave, ask the contractor to give you a ballpark estimate for how much the job is going to cost. Then get them to write up an official estimate and send it to you later. If the estimates don't match, find another contractor; if they can't give you a reasonable estimate the first time, you don't want them doing your work.
You should also read reviews on your contractor and ask if you can speak to previous customers of theirs. Ask if they are bonded and insured, and ask about what kind of warranty they offer on their work. You should get at least a 10-year warranty on your new AC system, and you want to work with someone who is backed by a professional organization.
Most of all, go with your gut. If you meet a contractor and they don't strike you the right way, move on to someone else. You're going to be trusting this person with a large part of your home improvement quality, and you want them to be someone you feel like you can trust.
Set Up Your Central Air Conditioner Installation
The questions that have to be answered before a central air conditioner installation can seem overwhelming. But take careful notes, be sure of what you want, and look for a contractor you can trust. You'll be able to chill out knowing you can be confident in the new addition to your house.
If you need to get a new central air conditioner installed, get in touch with us at Fischer Heating and Air. We have expert technicians who will ensure your installation gets every bit of the care it deserves. Contact us today to get started on making your house a much cooler place to be.
Howard Hale creates effective content and marketing strategies for a multitude of businesses. His agency, ManifesGo is all about helping small businesses manifest their marketing goals and objectives.