Seattle Gas Furnace Repair and Installation
Nearly 35 million American homes use central heating systems – or forced-air heating systems – that call for a gas furnace repair. Central heating systems draw air from your rooms, through vents in the wall or floor, and into the ductwork. This air is pulled toward the electric or gas furnace where it is forced through filters, humidified, or dehumidified, heated or cooled (if an air conditioner system is installed), and then blown back into the ducts where it is circulated throughout the home. Seattle heating most commonly uses ducts.
Ducted heating is quick and efficient for the simple reason that it has pinpoint access to every spot in your home. The ducts should be strategically placed so that any part of your house needing heat will quickly receive hot air. It might not be a system you'd want to have on all day, but it doesn't need to be. It aims to heat your entire house, as opposed to static heaters that only cover a single room.
Gas Furnace Repair Should Be Done by a Qualified Technician
Your gas furnace system is complicated, and many times requires an experienced technician to repair it. The majority of gas furnace repair problems originate from mechanical problems due to lack of maintenance. No matter if there's an issue with a power outage, malfunctioning system parts, or problems with the filters, our expert technicians at Fischer Heating can handle almost any gas furnace repair and maintenance request. They come prepared to your home fully equipped and ready to troubleshoot and fix any gas furnace heating repairs.
Common Gas Furnace Problems
Gas furnaces and heaters have shutoff valves to protect against gas leaks, in order to allow the gas to be turned off. If you smell gas in your home or garage, don't try to shut off the gas leading to the furnace, and don't turn any lights on or off. Immediately leave the house with the door open, and call the gas company right away to report a leak. Wait until the gas leak is fixed, before you re-enter your home.
It can be annoying when the pilot light does not ignite your gas furnace. The key component of your electronic pilot ignition is called the thermocouple. This is the copper rod you see the pilot flame hitting.  It's a safety device that controls a valve to shut off the gas going to the pilot light if the flame goes out. If it didn't shut the gas valve, all that gas could get into your home and result in an explosion and fire. So, the thermocouple is a critical safeguard, standing watch until something goes wrong.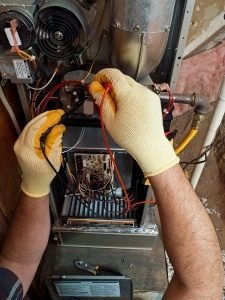 Here are a few problems related to the thermocouple that can cause the pilot light to go out, suggesting you may need a gas furnace repair:
Malfunction – If your thermocouple fails, it shuts off the valve even if the pilot light was working fine. And this prevents the valve from being operated manually. if that's the case, a professional HVAC contractor needs to replace the thermocouple. However, this is not an expensive part and Fischer Heating and Air can have your pilot light working in no time.
Soot buildup – Soot on the thermocouple will block the flame, so the thermocouple won't work properly. Gently clean the soot off with a wire brush.
Pilot not covering the top of the thermocouple – The pilot light flame needs to envelop the top of the thermocouple rod, so it can detect the flame.
Is It Time to Upgrade to a High-Efficiency Gas Furnace?
If your gas furnace has a pilot light it is probably 20 years old. In that case, it's time to plan to buy a new one soon since a furnace's lifespan is about 18-20 years. These old furnaces with pilot lights also waste a lot of gas. You can lower your energy bills by upgrading to a new high-efficiency furnace.
If you notice odors in the air, it could mean that filters are soiled or missing, or pollutants and allergens are circulating through your house. If the system becomes noisy you could be looking at a serious potential breakdown. Heating repair in Seattle can often become necessary due to a combination of older systems and occasional cold spells. Do not delay in calling a Fischer Heating and Air specialist to avoid further damage to your system.
It is always wise to talk to an HVAC contractor familiar with the local area when considering a furnace repair in Seattle. There is no question that any heating system requires routine maintenance to function efficiently and forced-air systems are no exception. In Seattle, gas furnace repair and maintenance are paramount to making sure your home is both heated and clear of air pollution.
Experienced and Licensed HVAC technicians
A skilled heating and air control technician does much more than just replace filters. They check wiring, airflow pressure, keep moving parts lubricated, and generally take the temperature of the furnace to ensure that it is healthy and delivering healthy air to your home. Investing in seasonal Seattle heating service makes sense as it can prevent costly repairs and ensure that your home is ready for the winter.
If you are considering replacing or upgrading your heating system, or you need Seattle heating repair, give Fischer Heating and Air Conditioning a call and one of our trained technicians can assess your circumstances and suggest solutions.
We perform HVAC service and gas furnace repair in Seattle, WA, for all kinds of homes, new and old.