Gas Furnace Repair – When is it necessary to hire a technician?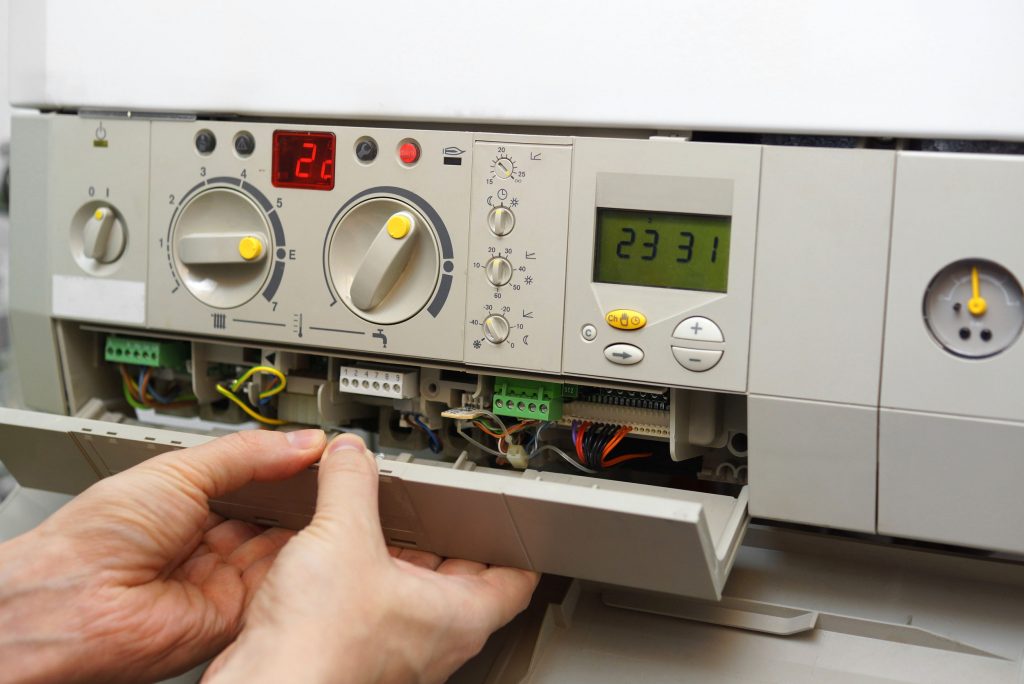 Gas Furnace Repair – When is it necessary to hire a technician?
A home heating appliance is vital in every home especially as the winter season approaches. Most homes either have gas or electric furnace for heating. Both options are equally popular around the country. Gas furnaces are considered more economical and highly efficient. Gas furnaces come in three different types:
• Single-stage furnace
• Two-stage furnace
• Modulating furnace
In choosing a gas furnace, another important factor homeowners need to consider is efficiency. The Department of Energy awards an Energy Star rating to furnaces with 90% efficiency or higher. Although the minimum efficiency requirement for homes is only 78%, it is better to have higher efficiency rated furnace to save on utility costs.
How long does a furnace last?
Every home heating appliance has a prescribed life expectancy in years. On the average, a gas furnace will last for 10-15 years. Within this time frame, your gas furnace will work at optimum level. As the gas furnace nears the end of its life expectancy, you may start experiencing issues with it thus requiring frequent gas furnace repair. When the time comes that major components of the furnace fail, you may be better off with a replacement which will pay back the initial cost in energy bill savings.
How does a gas furnace work?
The working principle of gas furnaces is forced air heating. This means the heating element or furnace transfers heat to air which gets distributed by blower fans into the ventilation system. A home's ventilation system usually works for both heating and cooling.
For a gas furnace to work, there is a pilot light responsible for igniting the burners inside the combustion chamber. Heat from these burners enter the heat exchanger and gets transferred into the air where the temperature is raised according to the thermostat setting. Natural gas and propane gas furnaces operate using the same principle.
Gas furnace issues you can repair yourself
Regardless of how reliable the furnace model, there is always a possibility you will encounter issues along the way. It is essential to distinguish which furnace issues require professional gas furnace repair services over those you can fix yourself.
• Clogged air filter. If the air filter is clogged, you won't need to call for gas furnace repair. One sign of a clogged filter is when it does not blow enough hot air. When dirt and dust build up in the air filter, it reduces hot air pressure and restricts airflow across the entire system. To fix this problem, turn off the heating system and check all the air filters. Clean all dirty air filters and replace them carefully before turning on the heating system again.
• Problems with the thermostat. Another common cause of furnace problems relates to the thermostat. Check the thermostat and ensure that it is set to the right setting.
• Tripped circuit breaker. In most cases, failing to give the heating system a complete once over leads to neglecting simple issues such as a tripped circuit breaker or turned off switches. Make it a habit of looking into these little things before panicking over slight problems and calling for gas furnace repair.
It is all well and good if you only encounter simple issues with your heating system you can quickly fix. When the problem is more serious, you'll have to seek the help of a service technician for help with gas furnace repair.
Furnace not igniting
Most modern gas furnaces use intermittent pilot or hot surface ignition for starting the furnace. These are more efficient than older models still using standing pilot lights. If your furnace is an older model, one likely cause of the furnace not igniting is the pilot light not going off. You may want to consider replacing an old pilot light to increase the efficiency of your furnace.
Although modern gas furnaces are better than older models, it is still possible to encounter ignition problems. Parts of the system may malfunction such as safety switches and computer boards. Troubleshooting this problem on your own may be difficult. You must contact a trained professional gas furnace repair in your area to look at the unit and fix the issue.
Burner needs cleaning or adjustment
The ignition system and burner are the two most important components of a furnace that is responsible for producing heat. While problems with the furnace not igniting is considered the most common issue encountered with gas furnaces, in some instances the burner may also malfunction causing the system to stop working. To figure out why the burner is not working or why it is not running according to optimum efficiency, one has to look inside the furnace itself. Looking inside the furnace to diagnose the problem is not something you can do yourself. As such, you need to call a qualified technician or gas repair service near you. It is better for a homeowner to have a maintenance plan where a contractor will come in once a year to clean or fix any issues with the burner.
Blower and belt problems
Problems with the blower or the belt can also cause the furnace to malfunction. One symptom is a high-pitched noise coming from the furnace. Once again, do not try to attempt diagnosing this problem because the symptom can be due to a more severe problem only a qualified technician can check and fix.
Checklist to finding a heating furnace repair service
Part of what ensures the performance, lifespan, and reliability of your furnace is regular maintenance and repair. Finding a good gas furnace repair service you will entrust with maintaining and repairing your heating system is another crucial choice. What do you look for when choosing a heating technician? Here are five tips.
1. Check the work experience. Sufficient experience means the gas furnace repair technician has worked extensively with heating systems of different kinds. A versatile technician can work with gas or electric furnaces and are familiar with both older and modern models. You can verify this by interviewing the service provider. They are likely to accommodate your request if you ask for someone who has extensive work experience in the field of furnace repairs and maintenance.
2. Always choose a NATE-certified technician. The North American Technician Excellence program is a private non-profit organization certifying HVAC contractors and technicians. They also check if technicians received sufficient and recurring training in installation, repairs, and maintenance. Homeowners who choose to work with NATE-certified technicians tend to have a better experience.
3. Hire a company-affiliated technician. Finding a technician online is comfortable and convenient. However, there is no assurance that hiring a freelance contractor gives you the confidence that they have the proper training, experience, and accreditation. While you may think that a freelance contractor is cheaper than getting a maintenance plan, the quality of the service provided is not always guaranteed. As much as possible, look for a service technician who is connected or affiliated with a reliable service company. Not only will you have peace of mind, but you also have the company to back you in case you encounter problems later on.
4. Check insurance and licenses. Even if you hire a well-known service company, it is still vital to check and verify if each technician is licensed and if the company has insurance. Anyone who is providing professional services needs insurance so that you have coverage in case there are problems with the service provided. You should be aware of what the company is liable for when something goes wrong in the end.
5. Check references and read reviews. Another excellent way to find a reliable technician is to ask for recommendations from people you know or read online reviews. If you want more objective reviews, look for third-party websites compiling reviews for HVAC repair system technicians and companies instead of those posted in the company website.
Aside from the tips mentioned above, always choose a local service provider. Selecting an HVAC repair and maintenance company near you guarantees convenience and speed of service.
How to find a reliable company offering furnace repair near me?
The internet is a helpful tool in assisting homeowners to find the best HVAC repair and maintenance companies locally. For example, there are smartphone apps that compile the nearest services by reading the location of your phone. Another option is to search online via websites where you have to enter your zip code to get a list of local technicians with their contact information.
With a local technician, scheduling for repair or maintenance is a lot more convenient. One major complaint of homeowners is having to wait long for their furnaces to get serviced. It can be quite inconvenient especially in emergency situations. You have better chances of getting your gas furnace checked and repaired on time if you schedule a local technician.
Fischer air and heating is a company servicing residents of Seattle and Bellevue. If you are currently looking for a technician to look at your gas furnace and perform routine maintenance before the coming winter season, you can call Fischer through their customer support line 206-202-9499 or 425-406-3050. Schedule your gas furnace maintenance today and have hassle-free heating this coming winter.
Image Copyright: bacho1234 / 123RF Stock Photo
Howard Hale creates effective content and marketing strategies for a multitude of businesses. His agency, ManifesGo is all about helping small businesses manifest their marketing goals and objectives.